Antony and Alice Maitland
Issue Date: 7/12/2009.
ALICE CHARLOTTE MAITLAND
(1956-1997)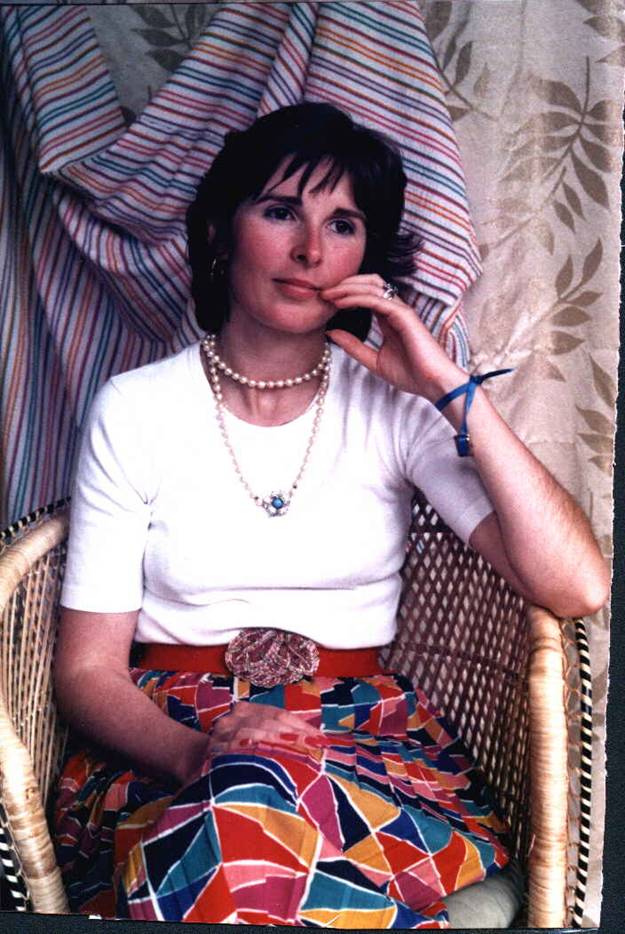 To a Lady

(RS Thomas – "No Truce with the Furies" 1995)

I don't know
who I write to,
the frocked girl,
pretty but pert,
or the grown-up
mother, doll-less
but dolled. Now
does death either
who, liquidating
her lungs, applying
irons to her heart,
discovers, astonished,
a being somewhere
between both, prettier
than a parent, and
wiser than each
of them in the way
she treats his fumbling
familiarity with contempt.

Written by RS on Alice's limited life.

Probably RS Thomas, a typewritten sheet sent to Alice 5 March 1997, with handwritten letter.

She does not inflict
her suffering on the garden
but is as a shadow
disclosing light is about.
in a corner, offering
herself to the sun's healing,
I found her and discoursed
upon everything but death.
'Why speak of the past
I enquired, 'when its reason
is in the future?' She looked
at me as does a flower,
wanting to believe
there are no clouds about,
but that the sun's setting
will be but an absence
of pain. What are small bones
for but to stretch compassion
ever more finely? We left her
on her cushion 0f moss,
praising the garden as
an extension of herself,
as though illness could have a perfume
of its own. I remember
her eyes that were too Drave
to betray her, her lashes
that wiped off her one tear
as a feather does a droplet of dew.

Ancestry.com passenger lists:
Departed London on P&O SS Iberia 23 Aug 1960, ship bound for Australia via Panama, but contracted to land at Vancouver.
Elisabeth Kirk-Owen (b Vancouver, dob 17/8/1915) of 7 Phillimore Place, W8, housewife.
Alice Charlotte Kirk-Owen, 3/10/1856.



Early Life
Alice was born in Queen Charlotte's Hospital in London, 3/10/1956 where her parents, Reginald (Rex) & Elizabeth (Betty Chadwick) Kirk-Owen were living. Rex had recently been called to the Bar at the time. She was probably named after Rex's grand-mother, Alice Dolman.
Early on, they moved from London to Ropley, Hampshire, where they became friendly with the Happels whose daughter, Ailsa ("Abby") was the same age as Alice. The two children by all accounts got on well, but with the death of Rex and Betty's move to North Wales with Richard Vernon, drifted apart until re-meeting when they were about 15. They became re-acquainted then and kept in mostly postal contact from then on. Alice became Ailsa's daughter Phillipa's god-daughter.
    When Rex became ill, they moved to Blagdon House, Keevil, where Rex died in 1959. After his death, Betty had the support of friends, in particular the Smalls (David had been in Chambers with Rex) and the Happells. Soon after Rex's death, Betty moved to Mid Wales with Richard Vernon, firstly to Eglwys Fach (initially in a cottage up the hill and then later to the Cock House), and later to Bryn Gwyn, Llanegryn, near Towyn, Merionethshire. It was in Eglwys Fach that they met the poet, RS Thomas, who Betty later married after Richard's death in 1996. Alice grew up with Richard Vernon as her father.
    Richard was an old style country gentleman and squire, with an enormous knowledge and love of the country, and gave Alice a love of the country and a calmer disposition than might have been expected, a gift which was to stand her in good stead later in life. Her mother gave Alice her zest for life, love of excitment and enthusiasm for her social life. Richard and Betty moved with Alice to Burcher Cottage, Titley, Herefordshire in 1971, to be nearer Alice's schools, Richard remaining there until his death in July 1996.
    Alice was confirmed 18th may 1972 at Hatherope Castle School
Acts I verse 8 by the Bishop of Gloucester.
    They became much involved in the local social scene, Betty's party's being well known for their excitement. Alice entered into the usual local country social activities, including hunting, both fox and otter,  (Richard Vernon was an avid follower of hounds) and riding her own pony, Kerry. Holidays were spent more often locally round Wales, but she travelled a little with her mother, sailing to British Columbia via Panama soon after Rex's death for a holiday. Richard was not a great traveller (he only flew once, with Antony in a light twin), but he, Betty and Alice took a cruise to see the Greek sites of the Eastern Mediterranean where they met Dorothy Collis, who painted Alice's portrait as a 5 year old and 25 years later painted her daughter, Isabel. Alice made an expedition on her own in summer 1975 to visit her Canadian cousins in British Columbia - a very glamorous trip at the age of 18, fresh out of school. The cousins apparently were impressed by their sophisticated, self assured European relation.
   Alice was educated locally in North Wales at Dr Williams, a Welsh speaking private school and then Hatherope Castle (Gloucestershire), a school which seemed to produce glamorous socially acceptable girls of indeterminate academic distinction. Alice enjoyed life there, so much so that maternal intervention was required to persuade the school to allow her to remain there (she had discovered boys). She played the usual sports at school such as lacrosse and tennis (she claimed to have broken someone's collar bone at lacrosse!). She still played squash after she was married. She still played squash after she was married. A friend of the time said that she was a hard worker and always top of the class.
   At her own desire, Alice moved in 1973 to Cheltenham Lady's College to take A levels, with a view to taking up law (a subject which would not have been suitable - much too precise and dry). She took English & French, passing French and retook English a second time in the winter of 1975/6. By that time, she had met Antony Maitland, who was one of several suitors distracting her from her studies, contributing to a second lack of success in the English exam!
    Alice had 9 months in London at Queen's Secretarial College, finishing 16 July 1976. During this time, she lived in a room in a boarding house in Queensbury Place, possibly the same block as Lindley had had in about 1969.


Blagdon House, Keevil: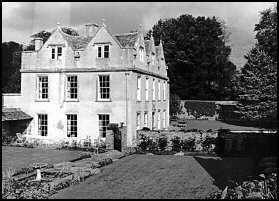 Married Life
   Alice & Antony Maitland were engaged to be married by the end of February 1976. During that year, she took a secretarial course in London, living in a flat in South Kensington. Alice and Antony were married on 16 October, 1976, Antony's 31st birthday, in St Andrew's Church, Presteigne, Radnorshire with the reception (followed by a dance for about 300 in the evening) at Burcher Cottage.
   After a honeymoon flying around the Western USA, they began married life in a flat in Evancoyd Court, near Presteigne, Radnorshire. The house, beautifully situated in the Radnor Valley, was a cold Victorian building: the flat was small, basic, and cold, Lindley saying it was the only place where the plates were too cold to rest on the knee! Alice worked as a secretary for an Aviation company at Shobdon airfield while Antony was completing an aviation project and training for a Commercial Pilot's Licence. Alice continued riding for a while after marriage, latterly hunting a very good horse which was stabled at the Gables. She had the luxury of the horse being prepared by its owner: all Alice had to do was prepare her outfit and climb on!
   After Antony's work became certain in the area, in autumn 1978, they bought and moved into a house called the Gables, in Norton, near Presteigne. Their first winter was long and cold, with ice in the yard for 8 weeks. The Gables is an 8 bedroom Victorian stone house which required extensive renovation, having a leaky roof (half a bucket of water in their bedroom on a bad night!), no heating and little plumbing and needing complete redecoration.  Antony and Alice carried this out themselves, only subcontracting the roof over the front of the house. Antony contributed the practical skills and Alice the decorative element. She often applied the gloss coat of paint to the prepared undercoat, thus being able to claim to have painted the room! Alice had inherited her mother's ability to make a house look elegantly decorative, if not always particularly tidy. Her clothes, however, were always immaculately preserved: she cared about them!
    This work took some years and combined with a good social life, filled the time. Alice was very active and took much pleasure in exercising and travelling with her dog, Brora, a black and white English Springer Spaniel bitch, named after the place in Scotland where we first met the breed. We had flown up there in a home built aircraft (a BD4) to see our best man, Peter Boxer, whose family took some fishing on the Brora river. Brora was Alice's constant companion until the dog died aged about 13. She was replaced by an even more lunatic version, Posey, in 1993. In later life, Alice took her dogs walking on a quad bike: she was well known about the area, careering about on the quad with the dogs ranging about her.
    Alice worked for some years as the receptionist for a friend, Tilly (Dunne) Calvert who had an osteopathy practice in Presteigne: Alice was well fitted for this, with her sympathetic ear and charm. She helped the patients considerably; as she was evidently not in the best health herself, patients felt more inclined to tell her of their troubles.
    Above all, Alice loved people, but also appreciated solitude at times, and could be happy with the company of the dog and herself. She kept a journal most of her life, but it was for her only: we never read it and the books were destroyed after her death. Journal writing was a way of releasing the difficulties of life. She was a great reader of magazines, particularly the "glossies" about fashion. She was always criticising me about my collection of magazines: when we cleared out the house, I took about 15 ft pile of magazines to the recycling centre! As her interests changed, so did the magazines, from House and Garden as we improved the house to Tatler and Vogue as her interests became more social(!). As a very pretty girl and beautiful woman, she remained vain over her appearance and had the right to be.
    Alice tried various pastimes, including learning Italian for a short period: our trips to Italy were much enjoyed. The Italian style could suite her: she could be extrovert and histrionic at times, more so when she was younger. As time passed, she became calmer, but never lost her sparkle.

Alice's Dog, Posey
Mid Wales journal, Friday 13th January 1995:

Now fangs ain't what they used to be!
SALLY BOYCE reports

It must have been a case of eeh, by gum, when Mary Temple Walker came downstairs in the morning at her Knighton home. The 18-month-old springer spaniel staying with Mary and husband Neville in Church Street, had wolfed down her false teeth!
And no, the mutt's name was not Gnasher, but Posie, who was on holiday with the Temple Walkers over Christmas.
Though Mary has to wait six weeks for a new set of dentures, she says she has had many laughs — though clearly not too many toothy grins.
"We still love Posie, and hope she'll come and stay with us again," says Mary, who received a letter of apology from the remorseful spaniel, complete with inky pawprints. Starting with the words, Dear Auntie Mary, Posie said sorry for polishing off the teeth, adding that they were delicious!
On the night the choppers went down the hatch, so did a chocolate orange. Both were on the sideboard, and Posie is a long-legged springer...
Not long before munching up 76-year-old' Mary's teeth, Posie had got to grips with her owner's specs — fortunately for her, the incident was noticed before she got to the lenses. "She's lovely, and as lively as a cricket, but she's very wicked," says Mary fondly. The Temple Walkers, devoted dog lovers, have eight of their own.
On previous holidays with the couple, Posie was taken upstairs to bed with them. "We thought she was old enough, and sensible enough to be downstairs, " says Mary. "We have laughed many times — it wasn't Posie's fault."
A quick call was put through to the vet — in the teeth of the storm, so to speak — who gave reassurances that the dentures would work their way through Posie's system. "We searched and searched for days," says Mary, but so far there is no sign of the missing teeth ... fangs ain't what they used to be.

    After Alice's death, the dogs spent the school holidays with the family, and term time elsewhere: in spite of the article, Posey did not like Mrs Temple Walker's and lived with another family. Teddy, the Terrier, however lived most of his later life with Mrs TW, getting fatter and more awkward, and died there, having been spoilt rotten!


Travels
    We had several memorable trips away, mostly with the company aircraft, to Copenhagen, (1979), Amsterdam (1979), the Loire (1979), Epernay (1981), Florence (1992), Innsbruck (1994), Venice (1996) and gliding in France (1977), Ireland (1981) & Spain (1983) and Austria in 1985. The last of these gliding trips was significant as the time when Alice health problems first began to surface.
    Interspersed with these were trips with the children to Polzeath, Cornwall, North Wales and Ireland. We took two holidays on a boat on the river Shannon, in 1993 and 1995.
    The first Shannon holiday was good, in spite of the rather poor weather. We drove there via the Swansea-Cork ferry to the Dingle peninsular, before moving north east. We hired the boat from Athlone and sailed south to the big lakes down river. We returned via Dublin and the East coast to Wexford. The second Irish holiday was one of our best, with perfect hot weather. We travelled by the high speed ferry from Holyhead to Dun Leoghaire (Dublin), passing through Killashandra (where my 4xG grandfather, William Armstrong, was said to have been a priest) and Leitrim where my G Grandmother, Eleanor (Armstrong) Poole was born. We had a large boat hired from Carrick-on-Shannon turning North for the Shannon-Earne canal, recently reopened after 100 years. A boating holiday suited Antony well who normally regarded travel as a challenge to see how fast the journey could be done. A boat cannot do that, but provides some occupation all the time. Alice by this time was using Oxygen full time and we arranged to have a supply from a local pharmacy. We also took her oxygen concentrator machine with a petrol generator which we hung from rope on the aft rail to reduce the noise and vibration: it worked very well and had the side benefit of running audio systems for the children at the same time. Alice did not leave the boat the whole week, but was very happy. Lindley joined us for a long weekend in the middle of the period.
    Another high point was Venice for a long weekend (October 1996), a place she had always wanted to see. It would have been very difficult, but Control Techniques, whose aircraft I was flying, lent us the company aircraft and so we went out with the children and another couple, Alex and Tania Dufort, for a long weekend. The water taxi was somewhat disconcerted by us arriving with about a dozen bottles of Oxygen and a wheelchair for Alice. Alex took command on arrival at Venice and had mapped out a marvelous visit with all the tourist bits plus good restaurants not always known by outsider. A lasting memory is of Alice careering about St Mark's Square pushed in her chair by Oliver, shrieking with laughter. She took with equanimity the risks of being carried up the steps of the bridges in her chair with a porter on each corner of the chair.
    Alice & I went to Austria on a gliding based holiday in June 1985, firstly to Mauterndorf, where we stayed in a small hotel in the village near the airfield.
    The weather was bad and so we spent time sightseeing and travelling around. Amongst other places, we went to visit the "Ice Caves" in the Saalach Valley South of Salzburg. The caves are high up in the mountains, reached by cable car, and consist of a glacier inside the mountain. The glacier is carved out into a walk with many flights of stairs. Alice had a lot of difficulty climbing the slopes in the cave. We put this down to her having an infection. She was not well in Austria and we visited a Pharmacist who looked at her and said that she was not well and should see her doctor at home.  As the weather remained set bad, we drove via a night in Verona to Varese in the Italian Alps, where with sun and Italy, Alice improved. Perhaps the high point for Alice might have been flying as passenger in the tug aircraft, with me on the back in the glider and the tug pilot making a pass at her in mid air!
    The gliding club at Varesi (Calcinate del Pesce) operates from its own grass field set on the shore of Lago di Varese. While there, we stayed in a small hotel with a good restaurant built out on a jetty on the Lake. The hotel was run by an alarming woman of uncertain age with died red hair who took a shine to us. On the days off flying, we visited Como and spent an evening with a Swiss glider pilot called Blatter we had met in Spain: he lived in Lugano.


Health
    In hindsight, the Austro-Italian holiday was when her deteriorating condition became apparent. Over the next 2-3 years Alice's health deteriorated with no obvious cause: she tried alternative medicine with no success (this probably delayed diagnosing her real problem).  She collapsed a lung several times, the first of which put her back in the care of conventional medicine. It was immediately apparent on X-ray that one lung was severely deformed, probably a relict of a problem she had when she was about 6 years old (she had been treated at the Alder Hay Hospital in Liverpool).
    The records of this early illness were lost and so there was no real idea of what happened, although letters show she was treated by Mr LJ Temple 28 October, 1963 under anaesthetic; the letters give no more information than that.
    This period was a hard one for Alice and Antony, with 2 young children (Isabel born 4/9/1980 and Oliver 17/6/1984). This generated a lot of work but Alice seemed to be deteriorating for no good reason. By Christmas 1987, she was quite ill and in February collapsed a lung again. By great good fortune, Sue Thompson's father, Amos Griffiths, a geriatrician at Oxford, made an introduction to Donald Lane at the Churchill Hospital and Alice was transferred there. He decided that an operation to prevent the lung from collapsing was the best course. It had the disadvantage that it effectively prevented any hope of a lung transplant later on. This very painful operation was carried out in February 1988 and was successful.
    During this time, I was told by Donald Lane that he thought that Alice's life expectancy was 1-5 years: the condition was untypical of the usual symptoms, making it difficult to predict the outcome. I was then faced with the prospect of not growing old with Alice and being a youngish widower. She did not know this prognosis then.
    After this operation, Alice's health improved rapidly over the next few months and she was able to lead a normal life once again, albeit with a somewhat reduced strength. She never did like carrying anything! She was able to take a much more active part with the children and travel a little with Antony.  We had an enjoyable trip to the USA in early 1989 to try to collect an aircraft in which I had a share. We went out early to New Orleans via Miami and had a long weekend there, staying on Bourbon Street, about 10 days before Mardi Gras: there were a several processions going on even then. We had the obligatory trip on a paddle steamer on the Mississippi. We then went to Montrose, Co., by airline to Denver, and then by car. Alice must have been well then: she felt better than I did going through the Eisenhower (?) tunnel at about 10500 ft amsl. We had two or three days there, and when it became apparent that the aircraft would not be ready to fly to England for some time returned home by scheduled airline.
   Over the next two years her health again deteriorated, with visits to hospital with pneumonia, and she lost weight dramatically. Food made her feel sick and she went down to about 70 lbs. By April 1991, it was all getting a bit serious. She had a session in the Churchill where they decided to give her Oxygen continuously: coupled with high steroid doses, her condition improved rapidly. During this period, she plucked courage and asked Donald Lane what her prospects were. He said that he was afraid that she would "never make old bones". This was a great shock as she had succeeded in disregarding her health up to now. At this time, there was also talk of combined heart/lung transplants. It was decided that this operation was technically too difficult and that age was now against her. A medical friend of ours also advised against it (at least partly on ethical grounds). He was, I think, correct. The outlook for patients with this operation was about 50% at 12 months: Alice beat that very handsomely, with, for the most part, a good quality of life.
   Throughout her illness, she succeeded in disregarding her health as far as possible, in spite of periodic visits to hospital. She was well known appearing at social functions looking beautiful and immaculately turned out, with her Oxygen set under her arm like a handbag. She was able to bring the children through their critical early years, but would have liked to have seen Oliver settled at Shrewsbury: she had however inspected it and chosen his house. She was able to travel a little with Antony and the children. Antony's job operating a corporate aircraft enabled them to visit Barcelona on one trip and take the children and another couple to Venice for a long weekend (October 1996), a place she had always wanted to see. Using the company aircraft enabled us to carry all that Alice needed for the Venetian visit: oxygen bottles and wheel chair: the water taxi was astonished as we appeared with a pile of them. We developed an effective system for negotiating the bridges of Venice. A memory of the trip was Oliver pushing Alice in the chair at high speed over St Mark's Square, with her shrieking with laughter.
    Sadly, Alice died on 14th March 1997. She always made light of her problems, but over the 9 months since her step-father's death and particularly since Christmas, she had deteriorated a lot. She had another spell in hospital at the end of January but never really picked up after that, although remained optimistic to the end: she had a hairdressing appointment for the day after she died. She continued battling on until mid March when she had a marked step down which she felt unable to beat. She decided that her time had come and died peacefully with the family around her soon after I arrived back from a ferry flight from South Africa.
    Her funeral was a party of which she would have approved, a church overflowing, good weather and a party afterwards. We were fortunate to be able to have an old fashioned ceremony with the church just across the road.
"The Times" Announcements:
MAITLAND, Alice Charlotte. Died peacefully aged 40, 14 March 1997, at home with her family. Funeral 3pm, 21 March 1997 at The Church of St Andrew, Norton, Presteigne, Powys. Family flowers only, but any donations split between our Church and Osler Respiratory Research Trust.

(This Trust was one chaired by Donald Lane at the Churchill Hospital).

A reply I sent to condolence letters received after Alice's death:
     Thank you for your letter about Alice; forgive me for risking Alice's wrath and printing this reply (I would be in trouble if I did not reply at all!), but I did not wish to inflict upon you the problem of deciphering my scrawl.
     I have been staggered by the number of people who have written. Through many of the letters there seems a common thread of admiration of the cheerful and courageous way in which she made the best of what life offered her. The letters have enabled me to express to myself Alice's character. For us, she succeeded in being a beautiful wife and loving mother (and organiser) in the best of ways.
     I have watched the transformation of a delightful girl into a truly remarkable woman (though she remained a girl to me): the children and I will miss her greatly. I have many regrets for what might have been had good health prevailed, but am blessed in having few, if any, regrets of our life together in the circumstances which actually prevailed. The existence of so many friends around us is a tremendous help in coping with our loss.
     I know it was not possible for you to come to Alice's funeral, but you missed a party afterwards of which I am sure she is proud.  All the family enjoyed meeting so many old friends in what proved to be a very cheerful gathering.
    We shall continue with our family policy of carrying on regardless. We are looking forward to a busy summer as planned. Isabel is working hard for her GCSE's (too many to count!) and Oliver takes Common Entrance for Shrewsbury next term. We are intending to continue with our proposed visit to our many relatives in Canada during the school summer holidays, and will doubtless spend time in Anglesey with Alice's mother, who will miss Alice even more than us.

Birth certificate: Registered Hammersmith on 12/1956 ref 5c 764.      Born: 3/10/1956 at Queen Charlotte's Hospital, Hammersmith.       Father: Reginald K-O,
Mother: Elisabeth Agnes, formerly Chadwick of 28a, Holland St, Kensington, W8.
Father's Occupation: Barrister.
Alice's godmother, Rachel Mackenzie-Grieve left her about 18000 in 1995.  Her grandmother Creina Chadwick, left her C$4000 in 1995.

Changes:
10 Dec 1999 (reissued 15/6/2001) Initial
3/12/2003: more info.
7/12/2009: "To a Lady"