INTERNET EXTRACTS OF TOPOGRAPHICAL RELEVANCE
Home Page
CHADWICKS (Return to Family File):
Downloaded from Ontario GenWeb Site, 9/12/2001
Contents:
Town of Arthur
The City of Guelph
"From Smith's Canadian Gazetteer 1846" - Guelph
Research into Buildings in Guelph. - Tyrcathlen
Haldimand County, Ontario, History
Cayuga - 1846 History
Dunnville

Essex County History
The History of Windsor
From: Wellington County, Ontario GenWeb
Frederick Austin Pakenham's first ministry.
THE FOUNDING OF ARTHUR
Arthur, named for Arthur Wellesley, Duke of Wellington, was the
southern terminus of the Garafraxa "colonization road" to Owen
Sound. Settlers arrived in 1840 but the townsite was not
officially surveyed until 1846. The establishment of saw and
grist mills hastened growth in the community which was also the
natural market centre for the area's agricultural production. In
1851 a post office was opened and the first church and school
were organized. A weekly newspaper the Enterprise, was
established and a Divisional Court met at Arthur. Economic
development was further encouraged when, in 1872, a station of
the Toronto, Grey and Bruce Railway was opened in the community.
That year, Arthur was incorporated as a village.
Edward Michael Stewart's latter period in Canada, other
Chadwicks here & FAP Chadwick born & educated here.
An Introduction to Guelph's Past
Guelph is a good place to explore some of the basic trends in
the history of Ontario's towns and cities; its stages of
development and its architectural styles are typical of South
Central and Southeastern Ontario. At the same time, it is
distinctive, because of its original plan and because of the
emphasis on building with locally quarried, warm-hued limestone
until the 1880s.
Guelph was founded as the headquarters of a land company's vast
commercial scheme in 1827, but it did not begin to grow beyond a
village status until the Grand Trunk Railroad reached it from
Toronto in 1856. From the beginning, Guelph has been closely
connected to the surrounding agricultural area, acting as a kind
of "window" on the larger world for the region. Its earliest
industries were mills on the Speed River, followed by foundries
making tools and equipment for local farmers. The town and
country relationship was fostered by provincial exhibitions and
agricultural fairs and by the coming of the Ontario Agricultural
College in the 1870s. An international orientation in
manufacturing was apparent from the 1870s with the production of
sewing machines, and pianos and organs. By 1879 Guelph achieved
city status, with a population near 10,000.
"From Smith's Canadian Gazetteer 1846"
From: Wellington County, Ontario GenWeb
GUELPH The District Town of the Wellington District, in the
county of Waterloo, forty-two miles from Hamilton; was laid out
by the late Mr. John Galt, on a block of land belonging to the
Canada Company, in the year 1828. The situation was well chosen,
being in the midst of a finely undulating country, and is high,
dry and healthy. The neighbourhood of the town is well settled
by respectable families from the old country, principally
English, many of whom came from Suffolk and Norfolk, and who
have some very fine farms. The Speed River, a branch of the
Grand River, runs past the town. The Gaol and court are built of
stone, and are handsome structures; but are placed in a bad
situation, being almost out of sight. A newspaper is published
here every Friday, the "Guelph and Galt Advertiser." Stages run
every day to Preston and Galt. Guelph contains five churches and
chapels, viz., Episcopal, Presbyterian, Catholic, British
Wesleyan and Congregational.
Number of inhabitants, 1,240; who are principally English
and Scotch, with some few Irish.
Research into Buildings in Guelph.
From the Wellington GENWEB Page
Source: G.A. Stelter
By coincidence the example used here is a house built by the Rev
Arthur Palmer and associated with his assistant, Edward Michael
Stewart. The house is called here Tyrcathlen before being
changed to Ker Cavan in the early 20thC: Tyrcathlen may be a
distortion of Tyrcallen, the Stewart estate in Antrim where EM
Stewart would have spent time.
...one particular house now known as Ker Cavan, 20 Stuart
Street, built in the 1850s. It is one of the finest stone
buildings in Guelph, and probably has more information available
on it than most places. Yet there are major gaps in what we know
about it.
For example, for Ker Cavan, Couling lists the construction date
as 1855 and the first owner, Rev. Arthur Palmer, rector of St.
George's Anglican Church....
The records of land transactions, located in the Land Registry
Office which is now at the Provincial Government Building on
Stone Road....
...showing Rev. Palmer's land dealings in the 1840s and 1850s on
lot 6, in Land Registry Book No. 01-A ...
This indicates that Palmer was the fourth owner of that
property, after the Canada Company, John McDonald (a Canada
Company surveyor), and George Tiffany (another Canada Company
surveyor). Palmer purchased some 23 acres from Tiffany (the B &
S, or Bill of Sale) and Tiffany gave Palmer a mortgage for at
least part of it. This does not tell us much about any house on
this large property. However, Palmer took out another mortgage
for 1800 pounds in September of 1853 from Rev. E.M. Stewart, who
happened to be his assistant minister at St. George's. This
mortgage was renewed in 1856, and repaid in 1859. Presumably,
this money was used to build what Palmer called Tyrcathlen, and
which was renamed Ker Cavan in 1928.
Another type of source at the Land Registry office is the
subdivision plan.... Rev. Palmer's land development scheme is
shown...
Figure 3: Plan of Part of Tyrcathlen, 1855. This does not show
the portion of the property where Palmer actually built the
house he called Tyrcathlen.
So where does this leave us? We can only assume that the
mortgages had something to do with the building of the house. We
know from other sources such as T.W. Cooper's map of Guelph in
1862 (Guelph Civic Museum) which shows most of the houses in the
town, that Palmer's house was already there by then. So it was
built sometime between 1853 and 1862. The local newspapers did
not describe new houses during this period so we can not go
there for verification.
Third, Assessment Rolls, on microfilm at the Guelph Public
Library.
These records are notoriously confusing and incomplete, yet they
occasionally provide information that can not be found
elsewhere.
The assessment rolls for Guelph begin in 1852. Heads of
households are listed alphabetically in any of four wards where
they reside or own property. Streets and lot numbers are given
(addresses with street numbers were not yet in vogue). In order
to know where the lot was located, refer to any of the early
Canada Company plans of the town. A large version of Plan 8
hangs on the wall at the Land Registry Office, for example.
In 1852 and 1853 Palmer resided on lot 1029, owned by George
Sunley, in a building which served as the Anglican rectory and
school. This lot had been the location of the original Canada
Company offices, near the focal point where the five streets
converge. In 1853 Palmer is listed as the owner of parts of 3
lots on Yarmouth Street.
There is no roll for 1854.
By 1855 he had purchased 27 acres of lot 6, mentioned in the
land registry records. His residence seems to have been next to
the Anglican Church, now St. George's Square, on lot 77, where
the Bank of Montreal is now located. The address technically was
Quebec Street.
The records are surprisingly incomplete for the next four years.
In 1856 Palmer is still living on Quebec Street, but there is no
mention of lot 6. And for the next three years, 1857, 1858, and
1859, Palmer does not appear in the rolls at all. He obviously
still owned all of the land across the river. And his grand
house was being built in those years. Why he would have escaped
the taxpayer still remains to be determined.
By 1860 "Tyrcathlen" is listed as such, consisting of 18 acres
and a house. The annual value of the house was listed at 100
pounds - presumably the cost of renting such a place. In
comparative terms, it was a grander house than Adam Robertson's
"Ferndell", built in 1855 on Mitchell Street which was estimated
to have an annual value of 65 pounds.
This tells us that the house was definitely there by 1860, but
how much sooner is still not clear. The actual construction must
have taken place in the years 1856-1859, slightly later than
Gordon Couling's estimate of 1855. A more precise date might
appear in another kind of source - correspondence, for example -
but this is as close as we can get with these records.
Fourth, City Directories.
In the case of Tyrcathlen (Ker Cavan), we know from other
sources that Rev. Palmer retired to Ireland in 1873. From about
1876 to about 1917 the house was owned and occupied by Alex
Petrie and his family.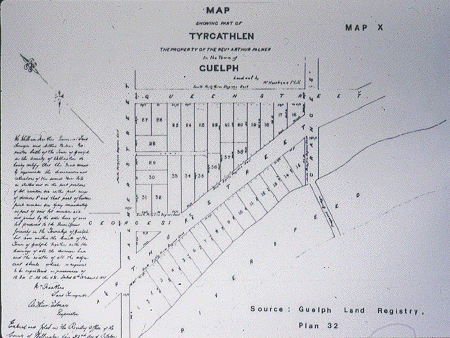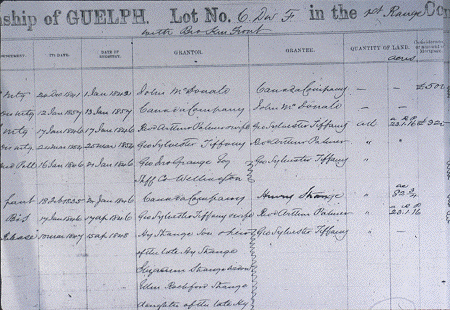 HALDIMAND COUNTY, ONTARIO, HISTORY

Edward Michael Stewart started his time in Canada here in Cayuga, although probably not as a minister.

Sir Frederick Haldimand

1718-1791

Swiss soldier of fortune and British Colonial Governor. He served in various Continental armies, including that of Frederick the Great. He joined the British army in 1754 and held several responsible positions in North America, including that of commander in chief, 1773-1774. In 1778 he became Governor of Québec, and was successful in securing the

province against internal disturbance and American attack. Before leaving his command late in 1784, he assisted in the settlement of some 7,000 loyalist refugees from the United States.

Ref: Grolier's Encyclopedia International, Ltd. 1968 Vol. 8, page 269

The History of Haldimand County

Courtesy of Estelle Pringle, UE

Dunnville Library

Dunnville, Haldimand Co., On.

The first known inhabitants of Haldimand County, circa 1600, were an Indian tribe known as the Neutrals or Attiwandaronk. There were as many as 40 Neutral villages in a territory that ranged from what is now Dundas, On., through the Niagara

Peninsula, across the Niagara River and into New York State. One of the largest of these villages is said to have been built on the Grand River, near Caledonia.

The Indian tribe was known as the Neutrals because they traded with both the Huron and Iroquois, maintaining their neutrality even during the battles that were fought between those two tribes. However, around 1650, the Iroquois attacked and entirely wiped out the Neutrals and destroyed Huron villages in the area, as well.

Over the next century, Haldimand County was host to the transient Chippawas (Mississaugas), French explorers and Jesuit missionaries. But no real attempt was made to settle the area.

After the American Revolution the loyal Indians, the Six Nations, who had lost their lands in the Mohawk Valley of New York State, petitioned the British government for land. In 1784 a tract of land, purchased from the Mississaugas, was granted to the Six Nations. This land extended six miles on either side of the Grand River from its source to its mouth on Lake Erie.

When white settlers began to pressure the Indians to sell some of their prime land along the Grand River, approximately 350,000 acres of the Crown Grant was divided into six blocks to be sold.

Four new districts were created by the colonial government, in 1788. They were Nassau, Hesse, Lunenburg and Mecklenburg. Nassau stretched from the Trent River to Long Point, and included what is now Haldimand County. In 1792, the districts were renamed and counties and townships created.

Haldimand County was named for Sir Frederick Haldimand, Governor of Quebec from 1777 to 1789. The county became part of the Niagara District, and eventually included Canborough, Dunn, Moulton, North Cayuga, Oneida, Rainham, Seneca, Sherbrooke, South Cayuga, and Walpole Townships.

Butler's Rangers, Mennonites, and Germans were its earliest pioneers. The earliest white settlement was said to have been established in 1784.

Haldimand County has been part of Nassau District, Home District, and Niagara District. It was incorporated on January 1, 1800 but remained part of the Niagara District until 1850. In 1974 it became known as the Regional Municipality of Haldimand-Norfolk.

Sources:

Grand Heritage, the history of Dunnville, Canborough, Sherbrooke, Dunn, Moulton and South Cayuga edited by Cheryl MacDonald

The County of Haldimand by Mrs. C.W. Coulter

The Early History of Haldimand County by Russell Harper

Place Names of Haldimand-Norfolk by Cheryl MacDonald

Reference: Wm. H. Smith's 1846 Canadian Gazetteer

Upper Province or Canada West

Published for the author by H. & W. Rowsell, Toronto

Courtesy of Elva Sanghera Burnaby, B.C.

A small village in the township of Cayuga, pleasantly situated on the Grand River, fifteen miles above Dunnville. The road from Simcoe to the Falls of Niagara passes through the village. Cayuga contains about seventy inhabitants; one store, one grocery, three taverns, one blacksmith, two waggon-makers, one

shoemaker, two tailors.

CAYUGA

A township in the Niagara District; is bounded on the east by the township of Canboro; on the north-west by Seneca and Oneida; and on the south-west by Rainham and Walpole. In Cayuga 14,871 acres are taken up, 3,666 of which are under cultivation. The Grand River flows through the township, on the banks of which are some good clearings. The timber on the Grand River, to

within a short distance of the village of Cayuga, is mostly hard wood, much of which is white oak of a large size; in exporting which a profitable trade is carried on. Above the village of Cayuga the timber is principally pine, with a small quantity of hard wood intermixed. About four miles below Cayuga village, is

a bed of white gypsum, situated close to the river. The village of Indiana is situated on the river, about two miles above Cayuga, and about six miles below the same village is a small Episcopal church.

Population in 1841, 837.

Rateable property in the township, £13,872.

FAP Chadwick's 2nd Ministry was St Paul's Dunnville.


A village in the township of Moulton, situated on the Grand River, at its junction with the feeder of the Welland Canal, four miles and three quarters from Lake Erie. It commenced settling in 1829, and now contains about 400 inhabitants. A steam boat plies here regularly during the season, and a smaller
boat continues the route to Brantford. Considerable quantities of lumber are shipped here. Dunnville contains an Episcopal church, and a Presbyterian church is in progress.

Post Office, post three times a week.
Professions and Trades: One physician and surgeon, two grist mills, three saw mills, one distillery, one tannery, one carding machine and cloth factory, six stores, four taverns, four groceries, two waggon makers, four blacksmiths, one saddler, two tinsmiths, four shoemakers, three tailors, two cabinet makers,
one baker, one turner.


The Essex County GenWeb Page would like to share the following information regarding Essex County with you.

Essex is the most southerly county in Ontario, bordered by Lake St. Clair, Lake Erie, the Detroit River and Kent County.

The county was named by Governor Simcoe after a county in England.

Francois Dolllier de Casson, a missionary, and his group were the first white men to land at Point Pelee in 1670.

Samuel de Champlain, in 1615 navigated the Detroit River.

The French built a fort on the Detroit site in the early 1700's. It was first a trading post and then a military post.

In the 1730's, land grants were given out, on the Essex side of the Detroit River between Amherstburg and Sandwich, to the French settlers and the British military. Such french families as: Baby, Lajuenesse, Dumouchelle, Langlois, etc..received land.

The Empire Loyalist arrived to receive free land in 1783 ei Caldwell and Elliott

Fort Malden in Amherstburg was built to replace the former British military post at Detroit. The Fort was strengthened by the 1812 war.

The Mackenzie Rebellion of 1837-1838 saw an attack at Fort Malden, however the forces at Fort Malden subdued their attackers.

The Great Western Railway came to Windsor in 1854.

The number of streets, building and the population of Essex County increase in their numbers. The population of the county in 1861 is more than 25,000.

In the 1880's, settlers arrived in large numbers and land became available to them when Indian Reserve land was made open to the public.

By 1892 Windsor was a city. Leamington, Walkerville, Sandwich, Amherstburg and Essex were incorporated towns.

Henry Ford, in 1904, build an automotive plant in the county.

By 1928 there were over 100,000 people in the Windsor area.

The Ambassador Bridge (1929) and the Windsor-Detroit Tunnel (1930) made travel across the river much easier.

The first European settlement in the Detroit-Windsor area occurred in the year 1701 when the Sieur De Larnothe Cadillac and approximately 100 military and civilian personnel arrived to found Fort Pontchartrain on the Detroit side of the river.

European settlement remained largely confined to the Detroit side of the river until 1748 when the Jesuit mission to the Huron Indians was established on the south (Windsor) shore near the foot of the present Huron Church Road and the Ambassador Bridge. From 1748 to 1760, a French agricultural settlement developed along the Windsor side of the river, paralleling a similar settlement on the Detroit side.

Although Fort Pontchartrain surrendered to the British in 1760 and the Detroit side of the river was again officially surrendered to the United States in 1783, both sides of the river remained under effective British control until 1796, when U.S. forces took up actual occupation of Detroit. During this period, the settlement continued to grow but remained predominantly French in population, and until 1791 French civil law remained in effect. Few buildings from the period of French settlement have survived, although the street pattern of the City still reflects the French method of agricultural land division i.e. long narrow farms fronting the river. In 1797, the original townsite of Sandwich was established to accommodate persons of both French and British origin from the Detroit side of the river who wished to remain under British rule following American occupation of Detroit. This constituted the first urban settlement in what is now the City of Windsor, and also the first significant migration of English speaking people into the Windsor area.

Sandwich developed over the following decades as the seat of government and the courts for the County of Essex. It still retains a number of buildings of the preconfederation era which are of historical significance and/or which exemplify the Neo-classical and Georgian styles of architecture which were in vogue during the first half of the nineteenth century. Two such houses are the Duff-Baby Mansion (1798) and the McGregor-Cowan house (c. 1805-09). Several log and timber farmhouses of the 1850s have been identified further east along Riverside Drive (i.e. bordage).

For more information about heritage buildings in Sandwich - Please click here to access the Sandwich walking tour brochure

As the chief port-of-entry to the region opposite Detroit, the Town of Windsor (now the downtown area) was already catching up to Sandwich in population when the Great Western Railway chose Windsor as its termination point in 1854. The arrival of the railway also marked the beginning of significant industrial development in Windsor. Due to numerous fires and the continuous redevelopment of the area over the decades, few of the early buildings in downtown Windsor still exist, but a number of late nineteenth century and early twentieth century buildings remain, including in particular a number of larger, upper income houses in areas immediately adjacent to the downtown area.

For more information about heritage buildings on Victoria Avenue – Please click here to access the Victoria Avenue walking tour brochure.

For more information about the history of the City Hall Square area – Please click here to access the Heritage Garden brochure.

The arrival of the railway in 1854 also sparked the foundation of the third of Windsor's oldest settlements, Walkerville. In 1857, Hiram Walker established his distillery at the point east of downtown, where the Great Western Railway first met the waterfront. On his lands running south of the river, Walker planned a complete town including provisions for industry, commerce, residences and agriculture (Walker Farms). The housing, a large part of which was built by Walker's own contractors, ranged from E. Chandler Walker's estate of Willistead (1906), built in the style of a Tudor manor house, to blocks of row housing for his industrial workers (1880s). Walkerville is a unique example in Canada of a Victorian new town developed by private capital inspired by that peculiar combination of business and philanthropic motives which characterized Victorian enterprise. Fortunately, many of the early Walkerville buildings still survive in excellent condition.

For more information about heritage buildings in Walkerville – Please click here to access the Walkerville walking tour brochure.

For further information on Walkerville, the Walkerville Times invites you to visit www.walkervilletimes.com

Although the Ford Motor Car Company was established in Windsor as early as 1904 to gain the benefit of Imperial trade preferences, it was the period during and following World War I which saw the auto indsutry asume predominance in the City. An area known as "Ford City" was developed around the industrial complex. Numerous large residences were built overlooking the river at that time.

For more information about heritage buildings in Ford City – Please click here to access the Ford City walking tour brochure.

The automotive industry changed Windsor from a relatively slow growing collection of border communities to a rapidly growing, modern, industrial city. By the early 1930s, the separate Border Cities of Windsor, East Windsor (Ford City), Walkerville and Sandwich amalgamated politically into a single community with a population of over 100,000.

For further information about the history of the automotive industry in Windsor, the Windsor Public Library invites you to visit www.city.windsor.on.ca/wpl/millennium/sar

In the second World War, industrial production increased dramatically attracting many new workers and resulting in substantial residential growth within the city and in the surrounding townships. The Town of Riverside, incorporated in 1921, had already absorbed some of the spillover. In 1966 the City annexed the Towns of Riverside and Ojibway, and parts of Sandwich East, Sandwich South and Sandwich West Townships.

Windsor rose to pre-eminence in the area at an early date and, with a population of about 200,000 at the dawn of the 21st century, has continued to be by far the largest urban centre in the county.

Essex County Look-up Page

If there is anything you feel that you may be able to assist with and feel you have the time to do so, your help would be wonderful. Please email me if you would like to help.

If there is something that you would like to have looked up in Essex County, Ontario, please contact me and INCLUDE the name of the Researcher that you think would be able to help you best along with Essex in the subject line. Please keep questions as specific as possible.

Thanks

Researchers

Cathy is available to do limited Essex County Look-ups, but not extensive research e.g. whole family trees. She has access to all published census, pre-civil registration marriages, probated wills to 1903, Roman Catholic Parish and Cemetery Records, and some local history and genealogies.

Lorie

is willing to do look-ups for all printed Cemetery Records for Essex County.

If you have any questions, comments or suggestions, email me at

Elizabeth LaDouceur